News & Announcements
First 5 San Bernardino Local Outcomes Report 2020-2021
First 5 San Bernardino's Local Outcomes Report for 2020-2021 is now available.
Join AmeriCorps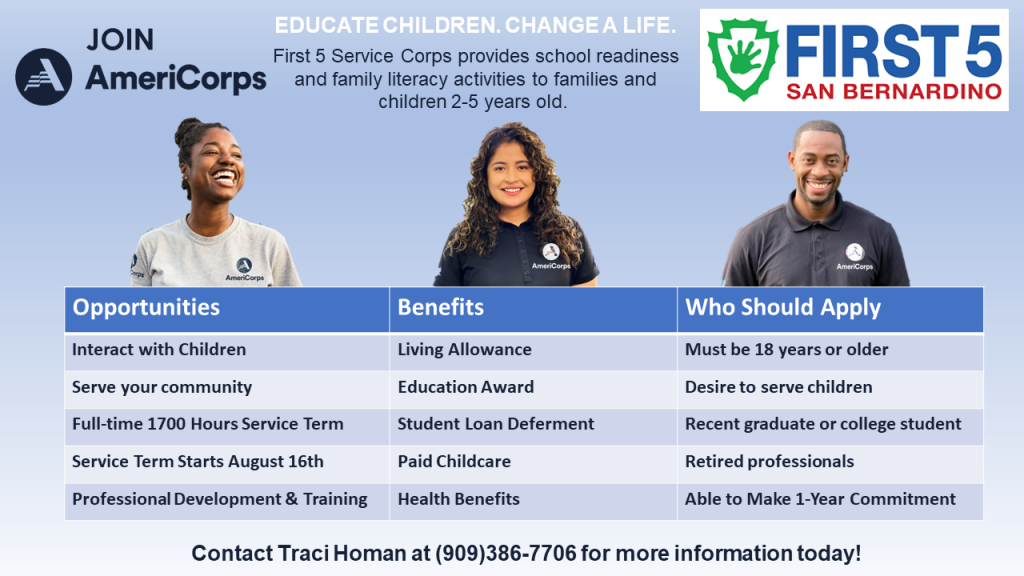 First 5 San Bernardino is accepting applications for the First 5 Service Corps. For more information please contact Traci Homan at (909)-386-7706.
Let's Keep Our Children Safe Around Water This Summer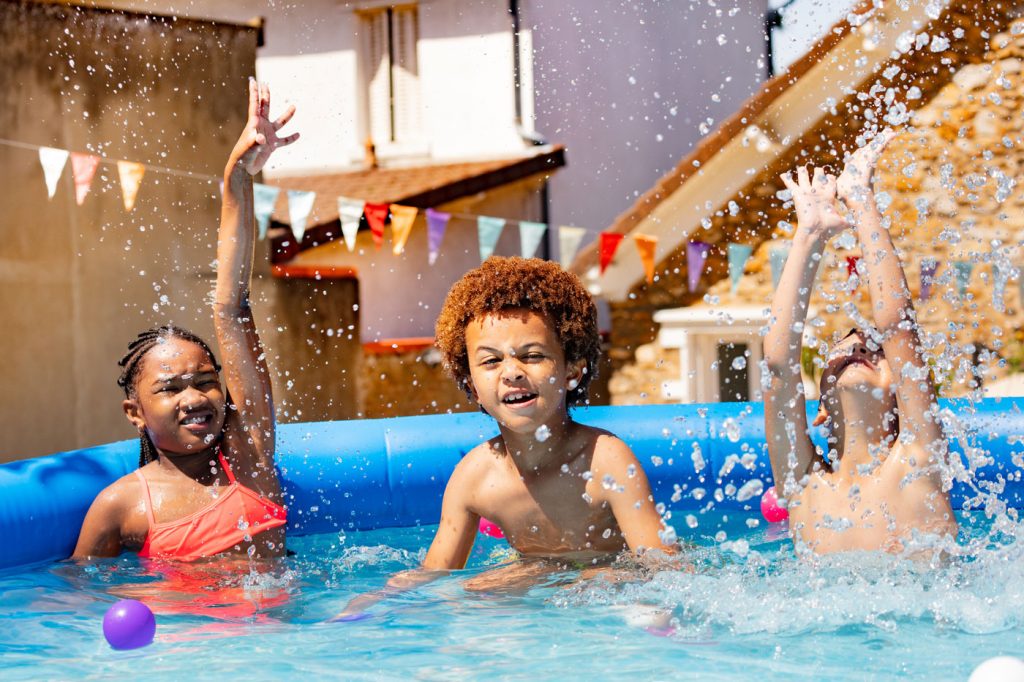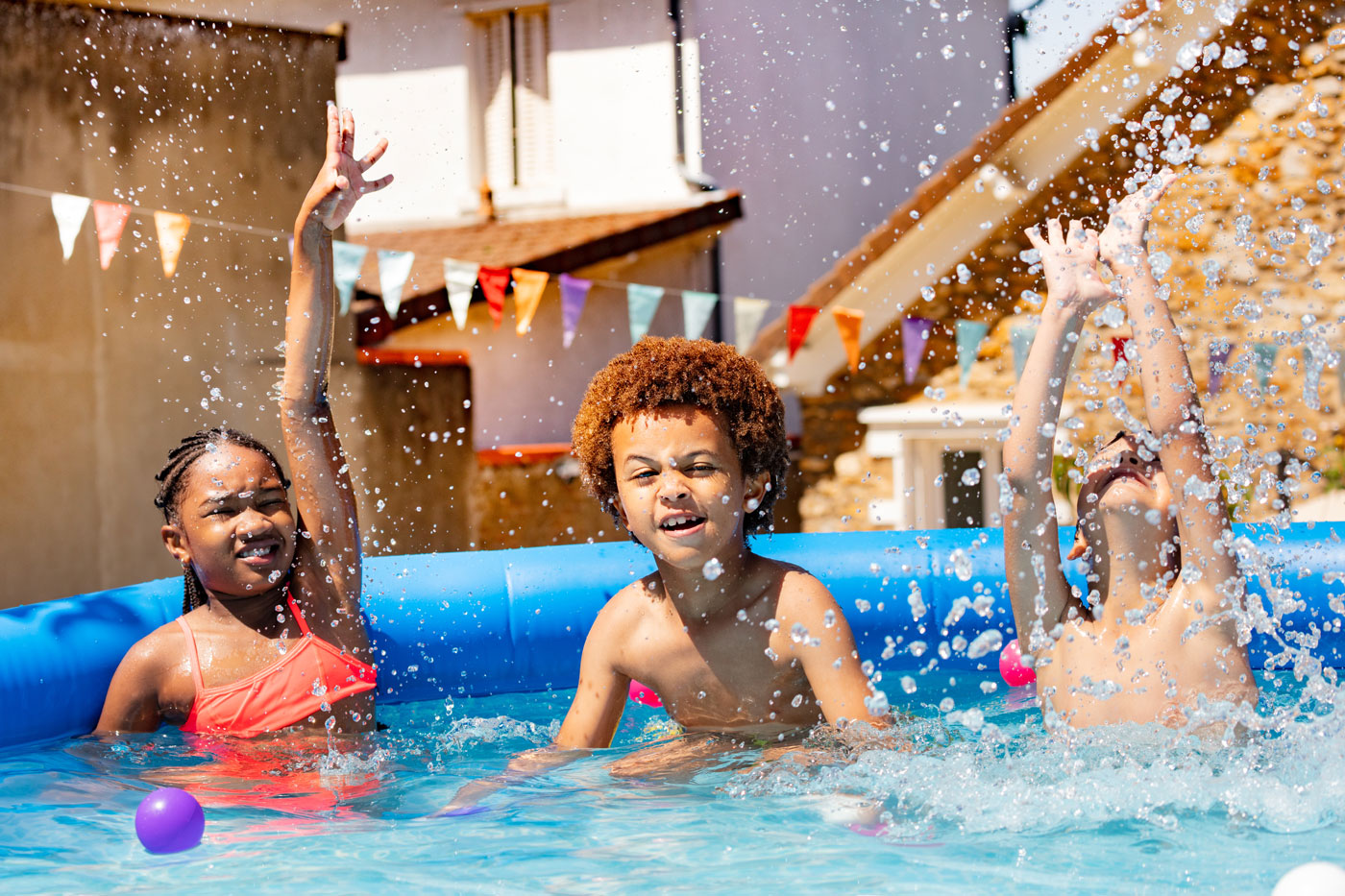 Summer is here! To stay cool in San Bernardino County, you and your family may be planning to spend time near water. First 5 San Bernardino urges you to be mindful of water safety for your kids.
To help, First 5 San Bernardino has created a Water Watcher Tag for you to print and bring to pools or open water, designed to be used to identify who's in charge of supervising children at a specific time. English & Spanish Water Watcher Tag. Remember, children near water need your full attention. It's important that you avoid reading, using your phone and consuming alcohol while you are supervising children.
First 5 San Bernardino Commissioner Ted Alejandre Named State Superintendent of the Year
On May 2, 2022, San Bernardino County Superintendent of Schools (SBCSS) Ted Alejandre was awarded State Superintendent of the Year by the Association of California School Administrators (ACSA).
Alejandre, Dowdy-Rodgers Join First 5 San Bernardino Commission
First 5 San Bernardino is pleased to announce Ted Alejandre and Gwendolyn Dowdy-Rodgers, EdD, have been appointed as new commissioners with First 5 San Bernardino. These appointments were recently approved by San Bernardino County's Board of Supervisors and became official during a swearing-in ceremony led by First 5 San Bernardino Executive Director Karen E. Scott during the April 6, 2022, commission meeting.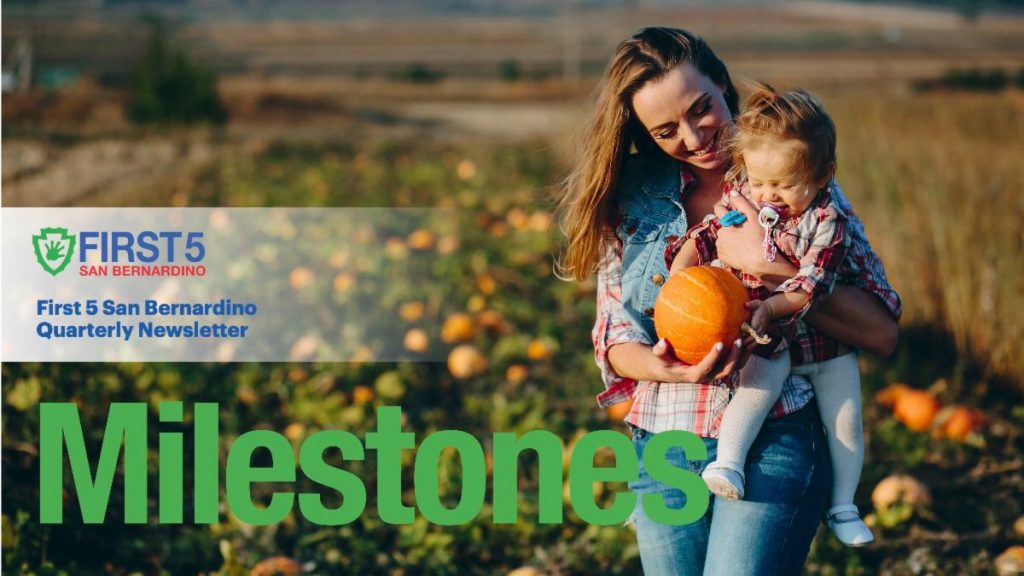 Spring 2022 Milestones Newsletter
Education Insight: Early Childhood Education: Universal Transitional Kindergarten (UTK)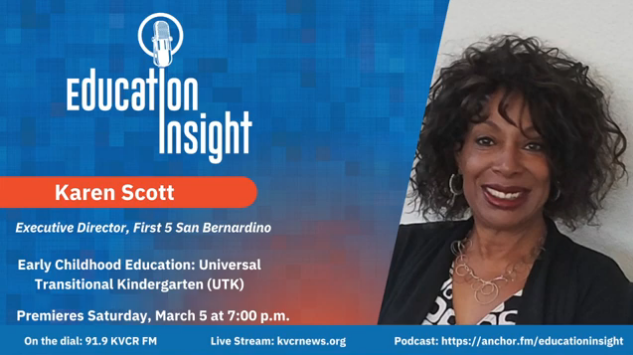 Karen Scott, Executive Director for First 5 San Bernardino, is a guest on the podcast Education Insight. In this episode Karen talks about the importance of Transitional Kindergarten and what challenges we face when adopting high-quality Transitional Kindergarten in the Inland Empire.
In need of resources?
In need of diapers, baby wipes, food, clothing, car seats or other essential items? There are local organizations ready to assist. On your phone, dial 211 or go online to Inland SoCal UnitedWay 211+ or ConnectIE,
San Bernardino County Renters: Unable to pay your rent due to Covid-19?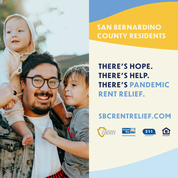 You may be eligible for help. Call 211 or go to San Bernardino County Rent Relief Partnership.
Effects of Pandemic on Child Care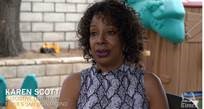 First 5 San Bernardino Executive Director comments on how pandemic demands and low wages have worsened the child care desert in San Bernardino County.
Watch LA Times Video
View Our 20th Anniversary Story
Learn about how we celebrated our 20th Anniversary through photos, videos, and media coverage.
Partner Events
IE Perinatal Equity Provider & Community Summit 2022
Saturday, September 17th is DAY 2 COMMUNITY/FAMILY DAY, of the Inland Empire Perinatal Equity Summit which will feature lots of fun, engaging and interactive activities for the whole family. The day will feature:
Free KIDS ZONE
Free Educational Information, Giveaways & Goodies
Resource Fair with Free Opportunity Drawings
Pampering Activities
Lactation Information & Supports
Free Continental Breakfast & Lunch Box
Interactive Panel Conversations focused on Rallying Around Black/African American Birthing Families: Respecting, Listening, Supporting
Tabletop Discussions focused on Postpartum Depression; Fatherhood; What is a Doula; How to Advocate for Yourself; and How to Talk to Your Healthcare Provider
If you plan to attend BOTH days registration is required.
For questions about the summit or for more information, please email CuPalmer@ruhealth.org or call (951) 840-8024.
Families Count: We want your feedback
Families Count brings families together to improve the lives of their children. Register today to share your opinions through 5-minute surveys on how to improve family services throughout the Inland Empire. All parents and families of children under the age of 9 living in the Inland Empire can register. Make your voice count!
Calendar
Events Search and Views Navigation
Videos
How every child can thrive by age 5
By Molly Wright, seven-year-old student from Queensland, Australia
How does income affect childhood brain development?
By Kimberly Noble, MD, PhD